Off-Site Plant Shredding Services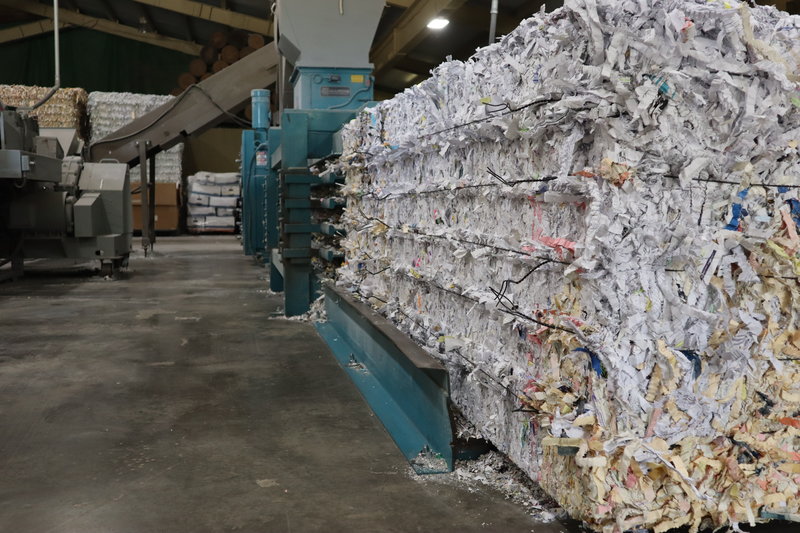 Allegheny Shredding's off-site paper shredding services offer a secure and cost-effective solution for destroying your confidential documents. With over 25 years of secure document destruction experience, we help businesses in all types of industries reduce risk, cut costs, and increase privacy protection. Whether you need your records destroyed just once, weekly, or monthly, we'll tailor a solution specific to your needs.
Secure
Protecting your information protects your business. Our scheduled and one-time purge paper shredding services ensure your sensitive documents and files are destroyed in a confidential and secure manner.
All Allegheny Records Destruction employees are uniformed, bonded, and fully insured. From the collection of your security containers to the transfer of your documents to our state-of-the-art shredding facility, our staff follows a strict chain of custody. Our off-site paper shredding plant is designed with the following features for the optimal security of your information:
External perimeter security
Access control and monitoring systems
Your records are shredded with equipment that renders sensitive information completely unrecognizable. And a notarized Certificate of Destruction is issued each time your documents are destroyed.
Cost Effective
Is your staff spending too much time shredding documents? Are paper shredder repair and replacement costs eating up your profits? Our plant-based paper shredding services eliminate in-house paper shredding costs. We place secure document collection containers and consoles in high-traffic areas in your office, free of charge, and pick up the contents on a schedule that fits your needs. The entire process saves your company time and money.
Compliant
Your business has a legal obligation to protect its customers and employees from identity theft. Allegheny Records Destruction's plant-based paper shredding services help you stay compliant with the Federal Trade Commission's Red Flag Rules as well as the following federal privacy protection regulations:
Health Insurance Portability and Accountability Act (HIPAA)
Fair and Accurate Credit Transaction Act (FACTA)
Gramm-Leach-Bliley Act (GLB)
Allegheny Records Destruction reduces your non-compliance risks and helps protect your organization's valued reputation.
Environmentally Sustainable
We share your commitment to ensuring a healthy planet. Recycling is an important part of our off-site paper shredding services. After destruction, all shredded material is baled and prepared for secure transfer to an accredited paper recycling facility, where it's recycled to produce a variety of consumer and business products. Our recycling process complies with Act 101, Pennsylvania's mandatory recycling law.
To learn more about our off-site plant shredding services, please contact us by phone or complete the form on this page.
Certifications &
Associations