Shredding Services in Monroeville, PA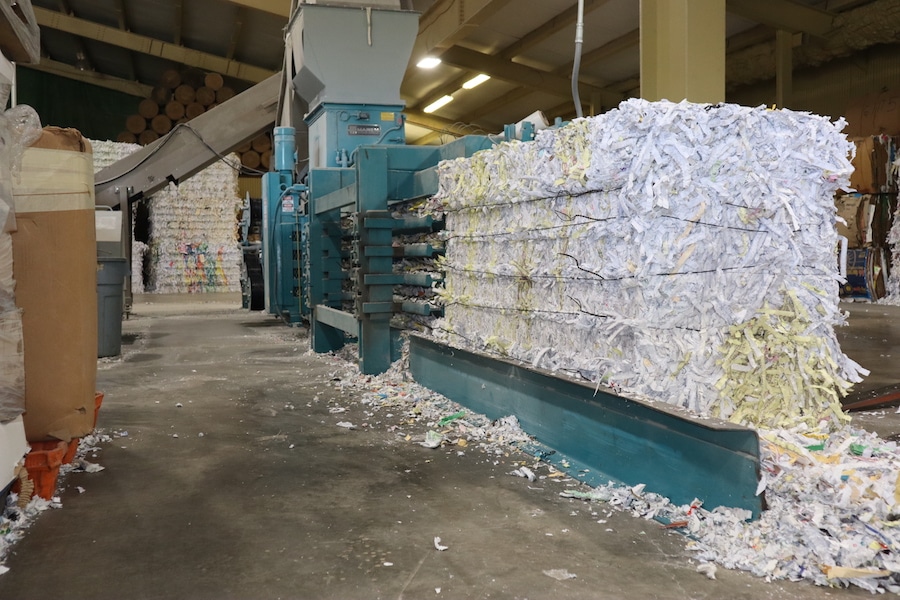 Are you concerned about unauthorized access to your customer records, employee files, and financial data? Allegheny Records Destruction is your total shredding solution. We offer the following shredding services to businesses in and around Monroeville:
Recurring scheduled shredding
One-time purge shredding
To learn more about our full range of document destruction solutions or to receive a free customized quote for your business, please contact us by phone or complete the form on this page.
Privacy Protection
Did you know that every time you use an office shredder, you put the privacy of your information at risk? Store-bought paper shredders don't offer a fraction of the protection of our state-of-the-art shredding technology. Our shredders render your sensitive information completely unrecognizable. So, whether you choose our scheduled or one-time purge shredding service, your documents are destroyed with unparalleled confidentiality. Our security features include:
Background-screened, insured and bonded destruction technicians
Locked security shred collection containers and consoles
State-of-the-art shredding facilities and vehicles
A strict chain of custody processes
We provide you with a notarized "Certificate of Destruction" verifying that your information has been thoroughly destroyed in a confidential manner.
Convenience
Your time is too valuable to waste shredding documents with an office shredding machine. Office paper shredders are time-consuming to use and unreliable for many reasons:
Staples and paper clips need to be removed before shredding
Paper jams are frequent
Shredding receptacles are small, requiring constant emptying
We make it easy to destroy your documents. Our locked security consoles replace your office paper shredders. We deliver them to your office at no charge. You can choose from a variety of container sizes and styles to match your office décor and document destruction needs.
Whole files, even if they have paperclips and staples, can be securely deposited into a security console in the blink of an eye. No valuable employee time is spent shredding. Then, per your collection schedule, a uniformed Allegheny Records Destruction technician collects your documents for on-site mobile shredding or off-site plant shredding.
Compliance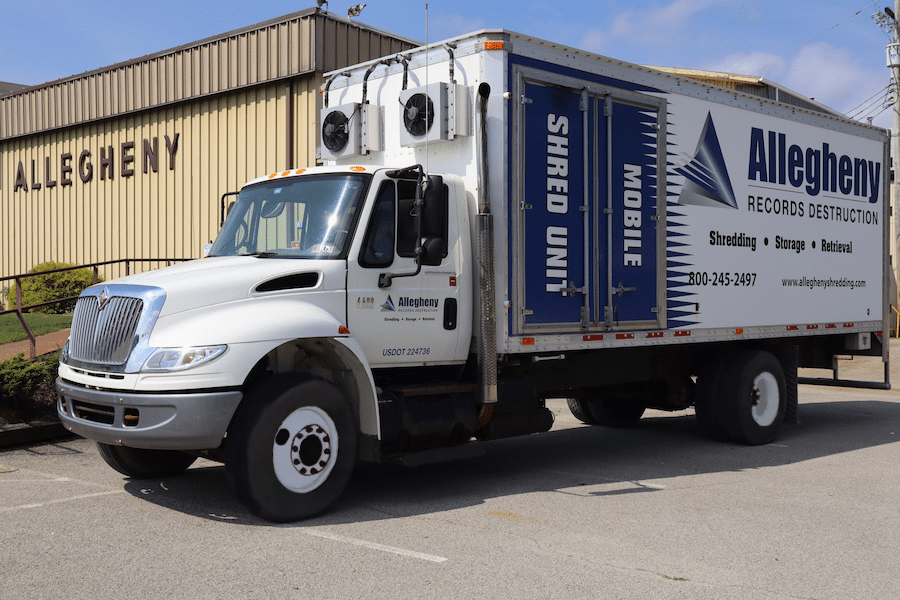 Every business is responsible for protecting personally identifiable information (PII) collected from employees and customers. If your personnel files, client documents, or other types of records are disclosed to outside parties—even by accident—it could be grounds for a lawsuit or significant fines. Our shredding services help your business comply with the following regulations:
FTC Red Flag Rules
Gramm-Leach-Bliley Act (GLB)
Health Insurance Portability and Accountability Act (HIPAA)
Fair and Accurate Credit Transaction Act (FACTA)
You receive a notarized Certificate of Destruction that documents your compliance with state and federal privacy laws.
Environmental Sustainability
Allegheny Records Destruction is committed to environmentally-sustainable shredding practices. Your shredded documents are responsibility recycled to ensure your company's compliance with the mandatory Pennsylvania recycling law, Act 101. After shredding your documents, we bale and transfer all shredded material to our accredited paper recycling partner.
Allegheny Records Destruction is Monroeville's total shredding solution. To learn more about our shredding services in Monroeville, please contact us by phone or complete the form on this page.
Certifications &
Associations