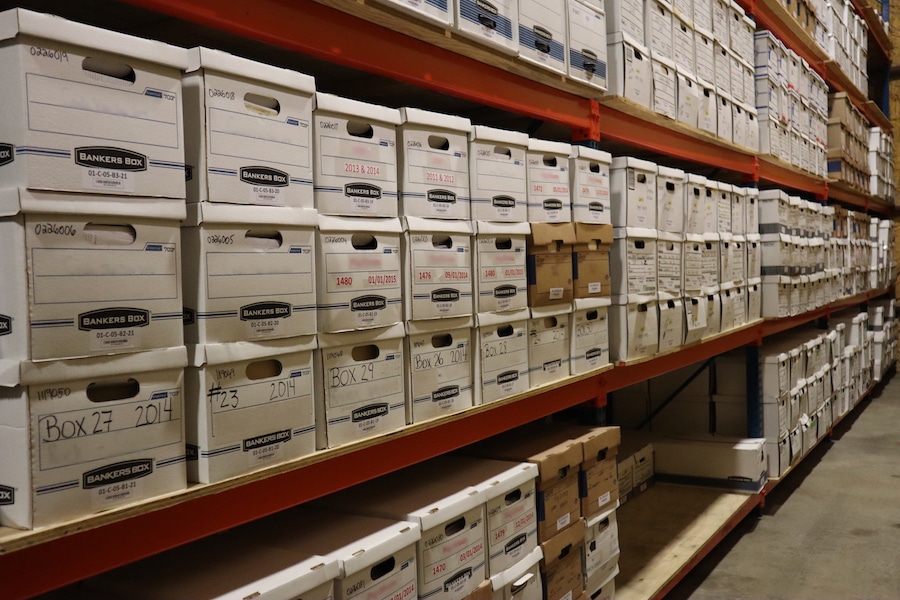 Are you looking for a secure, efficient and affordable document storage solution for your confidential business records?
Let Allegheny Records help. Our records storage and management service prevents unauthorized access to your files, reduces bottlenecks in your document management processes, and ensures regulatory compliance for your organization. We transfer your documents from your office or storage facility to our records center and provide everything you need for a secure and reliable records management solution, including:
Barcode labels
File storage cartons
In our records center, our records management personnel professionally organize and index your documents to your requirements. Each file box is anonymously stored on a high-density racking unit, identified only by barcode and tracked in our inventory management system for instant accessibility. You can request files and documents from our records center anytime. Our pick-up and delivery options include:
Scheduled pick-up and delivery
Next-day and priority rush service
Weekend, holiday and after-hours file access 
Secure Off-Site Document Storage
We're committed to keeping your confidential information safe and secure. From the moment your records leave your premises, they are protected with a strict chain of custody. We pick up and deliver your documents. Our records center features:
External perimeter security
Access control systems
Smoke and fire alarms
Access to our records center is limited to Allegheny Records staff, all of whom are screened, bonded and insured.
Document Storage and End-To-End Records Management
Allegheny Records offers a complete lifecycle management solution for your archival and active documents. Your records are tracked with our state-of-the-art barcode system, and advanced inventory management software makes it easy to review, edit and update your retention schedules anytime. We notify you when your records reach their final disposition date so you can choose to have them securely shredded right here in our facility for the utmost in information security.
To learn more about Allegheny Records' document storage and records management service, please contact us by phone or complete the form on this page.
Certifications &
Associations